Nov 17, 2020
It can be hard to see anything positive about the cards schools were dealt in 2020. COVID-19 and ongoing public reckoning with systemic racism are drawing attention to longstanding, chronic problems in the education sector. It's clearer than ever that in the long run, a return to "normal" won't serve all students well.
Even as education leaders work to address the most immediate challenges, there is an opportunity — arguably, an imperative — for schools to pursue lasting, positive change during this period of instability. But what does it take for schools to harness a moment of upheaval to change the status quo? And how can leaders make it more likely that promising changes will persist far beyond this year?
Despite deep challenges, some aspects of schools' new reality are showing promise to benefit students. Education leaders are making public commitments to challenge policies that marginalize and harm Black and Indigenous students, immigrants and students of color. Some schools are equipping parents to work with teachers to support their children's learning at home. More flexible schedules and learning pathways are enabling some students' curiosity and creativity to thrive. The glimmer of hope is that the positive adaptations schools make, such as prioritizing equity, investing in school-family relationships and encouraging students' independence and creativity, could lead to meaningful changes that benefit students in the long term.
But innovations implemented in response to today's crises aren't guaranteed to last into tomorrow. To make sense of the potential for 2020 to change K-12 schools forever, a new report from the Christensen Institute, Will Schools Change Forever? Predicting How Two Pandemics Could Catalyze Lasting Innovation in Public Schools, offers a framework for understanding why some crisis-induced innovations persist, while others are cast aside when conditions normalize.
The framework unpacks four components that determine an organization's capabilities (what it can and can't do) and priorities (what it must accomplish). More than just a descriptive model for a school's DNA, the framework shows how elements of that DNA act on each other and respond to the world around them, like predictable chemical reactions. For school system leaders and policymakers eager to sow the seeds for positive change, understanding this chemical interplay can be a huge leg up in planning for long-lasting, positive changes.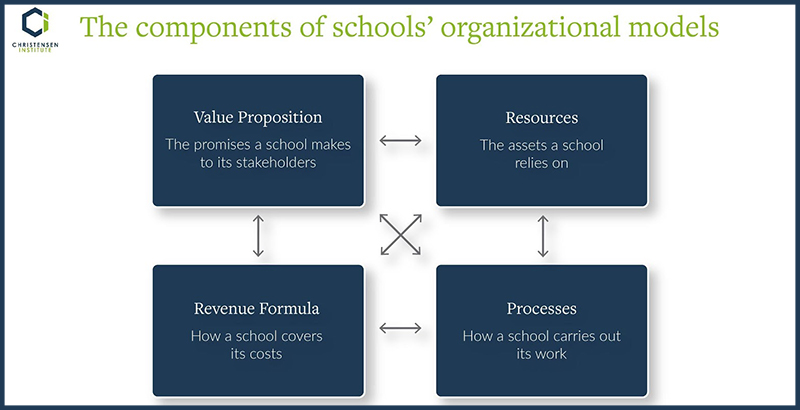 In the report, we argue that school and district leaders must separate long-term aspirations for positive change from short-term measures. Moves that seem like COVID-19 emergency responses will be tied to the pandemic in people's minds, meaning they will expect them to go away when the pandemic ends. But if leaders show how new changes will better deliver what parents, students and the community expect from schools, those changes are more likely to last.
For example, attendance in remote or hybrid learning is among the top concerns this year. Imagine a principal whose school has faced high absenteeism rates in past years. The principal has spent years trying to figure out how to increase engagement. Now, with buildings closed during COVID-19, he can no longer rely on even the simplest measure for engagement: physical attendance in class.
To compensate, the principal works with teachers to measure attendance based on students joining individual meetings with teachers, completing assignments and participating in online discussion forums. The principal starts to imagine how these measures could be baby steps toward a competency-based model, where learning and growth matter more than time spent in class. But once COVID-19 fades and schools begin to reopen, teachers, parents and students are eager to get back to normal and no one wants to continue with the attendance strategies they relied on during emergency remote learning. If the principal had demonstrated the advantages of the new attendance strategies from the beginning, and shown how building toward a competency-based model could offer students more flexibility and personalized support, the positive change would have had a better chance of enduring past the pandemic.
A second important action that school leaders can take is to invest in new processes, rather than substituting one system for another. For example, imagine a middle school looking to redirect funding from school resource officers to counselors in light of local protests against police violence and racism. In doing so, the school hopes to ensure that Black students feel safe and envisions counselors and psychologists as a path toward alternative approaches to discipline.
But just swapping school resource officers for counselors doesn't make for transformative change. A more holistic impact on students' experiences will be gained if the school also invests in reimagining the roles of all adults and young people in creating a positive learning environment. One example to consider is Sound Discipline, a nonprofit based in Washington state that partners with schools to develop positive discipline approaches, including students, parents, teachers and staff. A visit to a Sound Discipline demonstration school shows how new processes, such as morning meetings led by teachers or hand signals used by students, allows everyone — not just behavioral intervention staff or counselors — to participate in creating a safe and positive school environment.
For policymakers and funders, one of the report's key recommendations is to help free schools from rigid processes, such as monitoring in-person attendance or issuing letter grades, that stand in the way of positive change. Those policies may work fine for some schools, but for those that want to try radically new approaches, those old processes can get in the way of promising new ones. Policymakers should accelerate the creation of innovation zones and make it easier for schools to get exemptions and waivers in order to let go of legacy processes that act as roadblocks to student-centered learning.
Policymakers and funders can also help schools invest in building new ways of doing things, not just buy new things. For example, to help schools confront racism, don't stop with new culturally relevant curriculum. Take steps to lock in funding for anti-bias training and coaching for culturally responsive teaching as well.
In a moment when the challenges seem endless, it may seem impossible to pursue lasting, positive change. Yet as Dr. Susan Enfield, superintendent at Highline Public Schools outside Seattle, recently tweeted, "I have always said that those of us who choose to dedicate our lives to public education get up each day believing the impossible is possible."
Staying rooted in the conviction that change is possible in public education is one tool for driving transformative change. So is a deep understanding of the organizational dynamics at play when schools attempt change. Long-lasting transformation may be difficult, but it can be done.
This piece was originally published here on The 74 Million.